Minuteman Press Success Story
Posted on 21 January 2020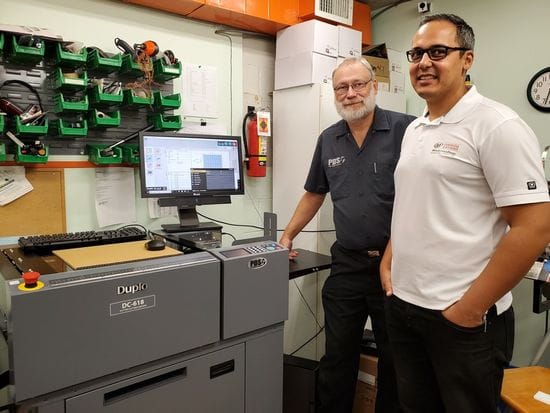 The Duplo 618 is Duplo's newest model in its famous line of slitter/cutter/creasers. With the ability to perform up to 6 slits, 30 cuts and 20 creases in a single pass, the DC-618 delivers full bleed applications up to 23 sheets per minute without the white borders and toner cracking for a clean finish. The first Duplo 618 purchased in Canada by Minuteman Press Kitchener has not dissappointed. We caught up with Mujeeb to get his thoughts on the machine and here is what he had to say:
"The Duplo 618 is hands down the best addition to our print operation. We always thought everything should be cut on a guillotine - but having the Duplo 618 in our finishing department has truly changed the way we do business. Nothing scores better, cuts more accurate, or is more versatile than this machine. Our only regret is not getting this machine sooner."
Cheers.
Mujeeb
Pictured above is Mark from PDS and Mujeeb Fataar, owner of Minuteman Press Kitchener.